TALANOA AKO THE NEW POWER-UP!
In 2021, we are offering the Talanoa Ako parent and family focussed programme. Talanoa Ako parent and family focus is a 10-week programme for parents and their children. It consists of core fundamental Talanoa Ako sessions such as NCEA, pathways, local curriculum, and partner/parent-developed workshops.
Parent and family focussed programme gives the pacific community partners the flexibility to decide how the workshops are spread across the year, and what workshops they provide alongside the core fundamental Talanoa Ako sessions.
This programme seeks to provide support to areas with growing Pacific populations and responds to feedback received about the Talanoa Ako programme (formerly Pacific Power UP) over the last five years.
Bring your family, learn how to support your kids education and get FREE advice from qualified teachers within the workshops!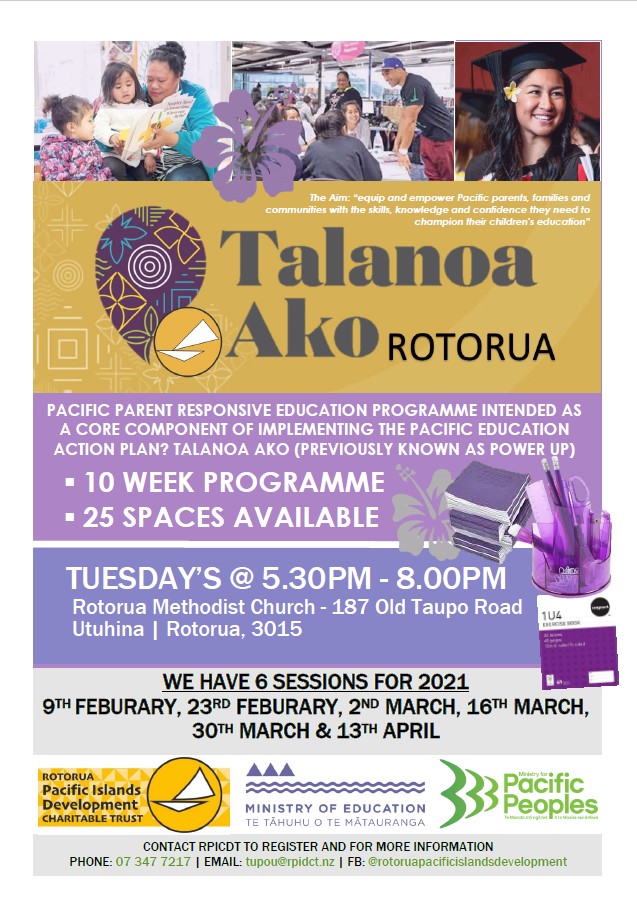 When: Tuesdays from 5:30pm to 8pm
Where: Rotorua Methodist Church
187 Old Taupo Road
Our Sessions 2021 Sessions
9/2- Pathways, Subject Choice, Goal Setting
2/3- School Reporting and Parent Teachers Interview
16/3- Health and Wellbeing
What happens in each of the workshops?
The parent and family focused programme covers a range of topics to help them understand;
why attending an early childhood centre is important for their child's future learning
why it is important for their children to do well in reading, mathematics and writing
what NCEA is and how they can support their secondary school children to achieve their goals by succeeding in NCEA.
Other education related information, programmes and opportunities that parents and families want or need to know about.
In the secondary school students workshop there will be:
Expert subject specific tutoring
Examination and study tips
Time management
Mentoring
Careers advice
Support with internal and external assessment preparations
For year 9 and 10 students who have not yet started NCEA, there will be a focus on goal setting and subject choice to better prepare them for NCEA and future study paths.
In the primary school students workshop, expert tutoring and tips for study preparation and time management will be covered.
The early childhood education workshop is a space for children under 5 to take part in activities that will support their growth and learning. Qualified and experienced ECE teachers will lead these workshop activities.
For more information contact our RPIDCT Team:
Phone: 📞 07 347 7217 | Email: 📧 admin@rpidct.nz
To get the latest updates about – Talanoa Ako, make sure to follow our Facebook page